Routledge Handbook of Judicial Behavior (Paperback)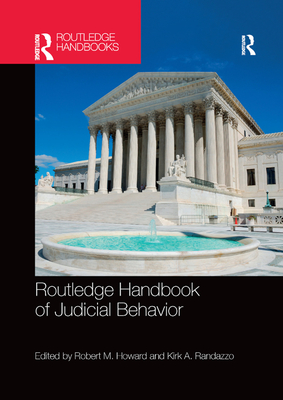 Description
---
Interest in social science and empirical analyses of law, courts and specifically the politics of judges has never been higher or more salient. Consequently, there is a strong need for theoretical work on the research that focuses on courts, judges and the judicial process. The Routledge Handbook of Judicial Behavior provides the most up to date examination of scholarship across the entire spectrum of judicial politics and behavior, written by a combination of currently prominent scholars and the emergent next generation of researchers. Unlike almost all other volumes, this Handbook examines judicial behavior from both an American and Comparative perspective.
Part 1 provides a broad overview of the dominant Theoretical and Methodological perspectives used to examine and understand judicial behavior, Part 2 offers an in-depth analysis of the various current scholarly areas examining the U.S. Supreme Court, Part 3 moves from the Supreme Court to examining other U.S. federal and state courts, and Part 4 presents a comprehensive overview of Comparative Judicial Politics and Transnational Courts.
Each author in this volume provides perspectives on the most current methodological and substantive approaches in their respective areas, along with suggestions for future research. The chapters contained within will generate additional scholarly and public interest by focusing on topics most salient to the academic, legal and policy communities.
About the Author
---
Robert M. Howard is professor of political science at Georgia State University. His main research interests are the impact of courts and litigation on social and public policy, and judicial decision making by the federal courts. He is the author of numerous articles and books, including Judging Law and Policy: Courts and Policymaking in the American Political System and Getting a Poor Return: Courts, Justice and Taxes. Dr. Howard has been the editor of the Justice System Journal as well as the editor of the book series Law, Courts, and Politics.Kirk A. Randazzo is professor of political science at the University of South Carolina. His research focuses on judicial behavior in the United States under a variety of potential constraints and the effects of judicial independence for emerging democracies. His work has been published in several prestigious journals, including the American Journal of Political Science, the Journal of Politics, and Political Research Quarterly. Additionally, he has published three books, the latest of which is Checking the Courts: Law, Ideology, and Contingent Discretion (co-authored with Richard W. Waterman), published in 2014 by SUNY Press.