Chosen Ones: The new novel from NEW YORK TIMES best-selling author Veronica Roth (Hardcover)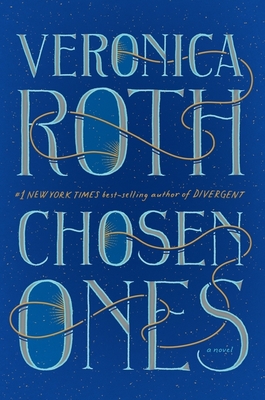 Staff Reviews
---
In a world where the chosen ones have won, defeated the dark one, what can go wrong? Everything, because even chosen ones aren't perfect and PTSD exists. Sloane knows something is missing, but everyone ignores her because she has it made, until she's proven right, and she's the only one that can end it for good. No such thing as black and white here, only shades of grey and the ever human ability to love where we shouldn't.
— Cat
I'll admit I was more than curious when I saw Veronica Roth was also one of the big YA authors making her Adult debut, and even more so when I read the summary. But nothing could have prepared me for the actual book itself. I enjoyed Divergent, and the fresh breath of air it brought to YA, but Chosen Ones, well. This book is going to be blowing a lot of minds for years to come. This is going to be a Scifi Classic, I promise you. While I was reading I couldn't help but screaming to my reader friends that this book was The One, pardon the play on words. It was perfect. Our protagonist, Sloane, is the perfect foil for other heroes we have currently in fiction who just cannot find the grey in morality. Which is of course interesting because they literally live in a world where there is the chosen ones, and then the dark one. Black and white all around. But Sloane sees through it all, and she questions, and she loves. Sloane is... Everything I wanted and needed after a bevy of failures from other major media finales I was looking forward to this past year. Roth continues to change the game with Chosen Ones, and I desperately hope she never stops.
— Cat
Roth has burst onto the adult fantasy scene - or is it a thriller? science fiction? or a stunning mix of all three? - with a sinister masterpiece of secrecy, superheroes, and the struggles that come with saving the world. With echoes of IT, Roth's own ingenuity and raw storytelling has created a haunting account of what happens after a hero finishes saving the world. Sloane peaked ten years ago as a teenager when she and four other Chosen Ones defeated the Dark One; yet as her peers have moved on and found ways to cope with their trauma, Sloane has nestled into it, uncovering secrets and old wounds in the process. However, Sloane's "paranoia" turns reality when a Chosen One dies and their worlds are - literally - ripped apart, and the ex-heroes must once again, and reluctantly, take up their mantles. After all, the world rarely stays saved.
— Cailey
April 2020 Indie Next List
---
"Two men and three women meet the odd criteria set for the Chosen Ones, who will save the world from the Dark One — whether they want to or not. Years after successfully completing their assignment, three of them are hijacked to a parallel universe to repeat their performance. They are not very happy. Roth's world-building is exquisite, as is her construction of parallel universe mechanics. And did I mention the maddening, flawed, and entertaining characters? Roth's first adult sci-fi is a resounding triumph! I'm ready for more."
— Kay Wosewick, Boswell Book Company, Milwaukee, WI
Description
---
A NEW YORK TIMES BESTSELLER

A Best Book of April from Time, Entertainment Weekly, USA Today, Fortune, Business Insider, Marie Claire, PopSugar, PureWow, Tor.com, Huffington Post, BookRiot, Literary Hub, Buzzfeed, Amazon's Editors' Pick, Apple Books, IndieNext, LibraryReads

The masterful first novel for adults from the mega-selling author of the Divergent franchise.

"A stunning thriller/fantasy/sci-fi chimera like nothing I've read before." --Blake Crouch

"A hugely imagined, twisty, turning tale that leads through the labyrinths of magic and war to the center of the heart." --Diana Gabaldon
 
Fifteen years ago, five ordinary teenagers were singled out by a prophecy to take down an impossibly powerful entity wreaking havoc across North America. He was known as the Dark One, and his weapon of choice—catastrophic events known as Drains—leveled cities and claimed thousands of lives. Chosen Ones, as the teens were known, gave everything they had to defeat him.

After the Dark One fell, the world went back to normal . . . for everyone but them. After all, what do you do when you're the most famous people on Earth, your only education was in magical destruction, and your purpose in life is now fulfilled?

Of the five, Sloane has had the hardest time adjusting. Everyone else blames the PTSD—and her huge attitude problem—but really, she's hiding secrets from them . . . secrets that keep her tied to the past and alienate her from the only four people in the world who understand her.

On the tenth anniversary of the Dark One's defeat, something unthinkable happens: one of the Chosen Ones dies. When the others gather for the funeral, they discover the Dark One's ultimate goal was much bigger than they, the government, or even prophecy could have foretold—bigger than the world itself.

And this time, fighting back might take more than Sloane has to give.
About the Author
---
VERONICA ROTH is the #1 New York Times best-selling author of the Divergent series (Divergent, Insurgent, Allegiant, and Four: A Divergent Collection) and the Carve the Mark duology (Carve the Mark, The Fates Divide). Divergent received the 2011 Goodreads Choice Award for Favorite Book, Publishers Weekly's Best Book of 2011, and was the winner of the YALSA 2012 Teens' Top Ten. The trilogy has been adapted into a blockbuster movie series starring Shailene Woodley and Theo James. Carve the Mark published in January 2017, debuted at #1 on the New York Times bestseller list, and remained on the list for eighteen weeks to follow. The Fates Divide, the second installment of the Carve the Mark series, also debuted at #1 on the New York Times bestseller list.

Though she was born in Mount Kisco, New York, Veronica's family moved to Hong Kong and Germany before settling in Barrington, Illinois. In elementary school, Veronica read constantly, but it wasn't until she got a "make your own book!" kit from her mother as a gift that she thought to write anything of her own. From that time on, she knew she would write for the rest of her life, whether she was published or not. She wrote the manuscript that would become Divergent in her free time while attending Northwestern University, where she graduated magna cum laude with a degree in English Literature with Creative Writing in 2010.

She is a board member of YALLFest, the biggest YA book festival in the country, and YALLWEST, its sister festival. She currently lives in Chicago with her husband and their dog, Avi, whose adorable existence is well-documented on Instagram.
 
Praise For…
---
"Roth (The End and Other Beginnings: Stories From the Future, 2019, etc.) made her name by writing bestselling YA action/adventure novels like the Divergent series, so it makes sense that she can so expertly deconstruct those tropes for adult audiences. There's a lot of magic and action to make for a propulsive plot, but much more impressive are the character studies as Roth takes recognizable and beloved teen-hero types and explores what might happen to them as adults. Roth makes a bold entrance to adult fantasy."
—Kirkus Review (starred)

"With Chosen Ones, Veronica Roth keeps you guessing: playing with perception, multiverse theory, and the struggles that go along with being 'chosen' to save the world...she's created a universe that you never want to leave."
—Amber Benson, author of The Witches of Echo Park

"A hugely-imagined, twisty, turning tale that leads through the labyrinths of magic and war to the center of the heart"
—Diana Gabaldon, author of Go Tell the Bees that I am Gone from the New York Times best-selling Outlander series.

"Chosen Ones by Veronica Roth is the cure for all those humdrum 'one true savior' narratives. This dark, complex novel rocked my heart and left me with a renewed sense that saving the world is a job that never ends. Roth's version of magic is as flawed and fascinating as her characters, and her story keeps you guessing until the wild conclusion. You'll never look at fantasy heroes the same way again."  
 —Charlie Jane Anders, Hugo & Nebula Award winning author of The City in the Middle of the Night  

"With Chosen Ones, Veronica Roth has pulled off a virtuoso performance, conjuring a stunning thriller/fantasy/sci-fi chimera like nothing I've read before, a story of ex-heroes struggling with the trauma of their past, what it means to have once saved the world, and the dark side of destiny."
 —Blake Crouch, New York Times bestselling author of Recursion
 
"Roth somehow manages to make universe-building look easy. She sets it all up--world, characters, premise--so smoothly that you hardly notice until you're a hundred pages in and hurtling down the tracks. An insightful exploration of desire and ambition that also touches on broader societal topics, including celebrity, social media, trauma and recovery. A thought-provoking novel with ample emotion and a sense of playfulness with form. And one more thing: when the inevitable adaptation of Chosen Ones hits the screen someday, I just hope it captures Roth's fascinating and original theory of magic."
—Charles Yu, author of Interior Chinatown

"Roth's first novel for adults (after the wildly popular Divergent series for teens) is driven by Sloane, a stubbornly unlikable heroine who wears her troubles on her sleeve but doesn't truly understand her full power until the shocking ending. Those who like twisty power plays and very detailed worldbuilding will appreciate this…The many fans of Roth's YA series will be clamoring for her adult debut, which features magic, lots of sarcasm, and a hint of romance."
—Booklist