Nobody Told Me: Poetry and Parenthood (Paperback)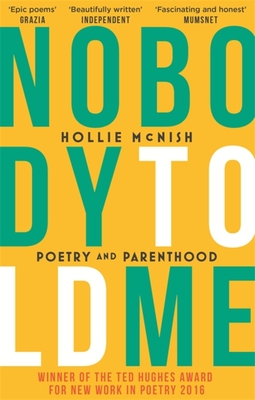 $15.99
Email staff@bookmarksnc.org for price & availability
Description
---
Winner of the Ted Hughes Award for New Work in Poetry 2016

There were many things that Hollie McNish didn't know before she was pregnant. How her family and friends would react; that Mr Whippy would be off the menu; how quickly ice can melt on a stomach. These were on top of the many other things she didn't know about babies: how to stand while holding one; how to do a poetry gig with your baby as a member of the audience; how drum'n'bass can make a great lullaby. And that's before you even start on toddlers: how to answer a question like 'is the world a jigsaw?'; dealing with a ten-hour train ride together; and how children can be caregivers too.

But Hollie learned.

And she's still learning, slowly. Nobody Told Me is a collection of poems and stories taken from Hollie's diaries; one person's thoughts on raising a child in modern Britain, of trying to become a parent in modern Britain, of sex, commercialism, feeding, gender and of finding secret places to scream once in a while.
About the Author
---
Hollie McNish is a published UK poet based between London, Cambridge and Glasgow. She has two poetry collections - Cherry Pie and Papers and analbum Versus, which made her the first poet to record at Abbey Road Studios, London.
Praise For…
---
The world needs these poems - and so does every parent
. . . Interspersed with passages of spiky, penetrating prose, they offer a series of vivid snapshots of the highly emotional, frequently paranoid and always sleep-deprived experience of the first-time parent . . . The world needs this book. It should be required reading for anyone thinking of having a baby, or even anyone who knows someone who is thinking of having a baby. And
I can't help wondering if these islands would be a happier and more pleasant place to live if Nobody Told Me was made a compulsory sex-ed set text in our schools
. Politicians, please take note—
Scotland on Sunday
The things no one tells you before you have a baby are numerous - Hollie McNish turns them into epic poems about the transformation of your body and Mr Whippy vans.
You'll learn a lot
—
Grazia
McNish does not shy away from discussing the pain, emotional and physical, the fraying of self that comes with sleep deprivation, the poo, snot, seepages and leakages, but she also captures the bliss and wonder. Her rhymes have a driving quality, urgent words pinning down fleeting feelings, and her prose is warm and conversational,
like speaking to a friend
—
The Observer
From a poem about morning sickness to a story about enduring a public toddler tantrum, [Hollie McNish]
provides beautifully written solidarity
covering both the trials and the joys of being a parent—
10 Best Parenting Books
,
Independent
Hollie's poems are deep and delicate. They move across you in a way that's so gentle you almost don't realise how they've gone straight for the gut till you're thinking of them, by accident, days later.
She writes with honesty, conviction, humour and love.
She points out the absurdities we've grown too used to and lets us see the world with fresh eyes. Her poetry is welcoming, galvanising and beautiful.
She's always been one of my favourites
—
Kate Tempest
It's a moving and profoundly personal account. Yet at the same time,
Nobody Told Me
offers an insight into the shared, unspoken experiences of many mothers. McNish describes Nobody Told Me as 'All the things I couldn't talk about.' It feels like time that we started talking—
The Skinny
Her poetry has never shied away from issues of gender, race, commercialism and parenthood but it always delivers
touching and accessible insights
, and this book will surely do the same—
The Big Issue
For a lyrical take on pregnancy and parenthood, look no further than Nobody Told Me: Poetry and
Parenthood from award-winning poet Hollie McNish. This beautifully written book includes a series of
poems and stories, lifted from Hollie's personal diaries on becoming a parent, and documents her journey
from pregnancy to taking her child to pre-school for the first time
—
Independent