Atlas of a Lost World: Travels in Ice Age America (Paperback)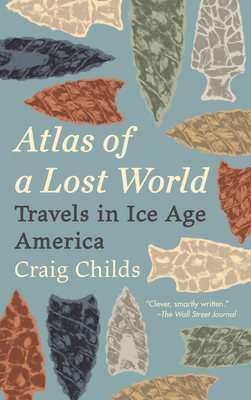 List Price: $18.00
Our Price: $17.00
(Save: $1.00 6%)
Description
---
The first people in the New World were few, their encampments fleeting. On a side of the planet no human had ever seen, different groups arrived from different directions, and not all at the same time. The land they reached was fully inhabited by megafauna—mastodons, giant bears, mammoths, saber-toothed cats, enormous bison, and sloths that stood one story tall. These Ice Age explorers, hunters, and families were wildly outnumbered and many would themselves have been prey to the much larger animals.
 
In Atlas of a Lost World, Craig Childs blends science and personal narrative to upend our notions of where these people came from and who they were. How they got here, persevered, and ultimately thrived is a story that resonates from the Pleistocene to our modern era, and reveals how much has changed since the time of mammoth hunters, and how little. Through it, readers will see the Ice Age, and their own age, in a whole new light.
About the Author
---
CRAIG CHILDS is the author of Apocalyptic Planet. He has been a regular commentator for NPR's Morning Edition, and his work has appeared in The New York Times, the Los Angeles Times, Men's Journal, Outside, The Sun, and Orion Magazine. Awards he has received include the Ellen Meloy Desert Writers Award, the Rowell Award for the Art of Adventure, the Sigurd F. Olson Nature Writing Award, and, for his body of work, the 2003 Spirit of the West Award.
Praise For…
---
"It's a clever, smartly written and altogether enthusiastic effort to breathe feeling and life into the human processes behind all those ancient sites, artifacts, and busted animal bones. The past is a country to which one cannot return, but "Atlas of a Lost World" at least helps you imagine what you might be missing." —The Wall Street Journal

"A wonderful and adventurous book." —Aspen Daily News

"Whenever I read Craig Childs I feel as if I am in the presence a passionate tour guide to exotic places, rare artifacts, and ancient bones. Childs' Atlas of a Lost World is a transcontinental detective story about the arrival of humans in North America. About 20,000 years ago climates changed, humans spread across the globe, and a new era began for life in North America. Childs' first-hand encounters and vivid prose make his telling of these pivotal events read more like a thriller than a stale account of dusty artifacts." —Neil Shubin, author of Your Inner Fish

"A useful and transporting tour d'horizon of the prehistoric Americas….Throughout the text, Childs projects a high degree of infectious fascination, pulling readers into his prehistoric scenes. Readers will be impressed by his hardiness as he attempts to experience what an ancient traveler may have experienced…. A tight weave of professional findings, anecdotes, site visits, and explanations behind ancient artifacts make this book both engaging and indispensable for those with an interest in prehistory."—Kirkus *starred review*
 
"In this captivating travelogue, Childs trods the late Ice Age with the first migrants to the Americas—adventurous and canny explorers who traveled amid disappearing glaciers and 'a cycle of animals of all sizes from voles and falcons to some of the largest mammals seen in human evolution.'…With simple, beautiful sketches by fellow traveler Gilman, Childs's account will fire the imagination of ordinary readers as well as anthropologists and prehistorians."—Publishers Weekly *starred review*
 
"Childs takes readers on a scintillating dual journey through the geography of modern and Ice Age America in this survey of some of the lands reached by the first voyagers across the Bering Sea Ice Bridge…. While exploring the American West and ultimately embarking on a trip in a north Florida swamp, Childs maintains a self-deprecating humor and a boundless enthusiasm for his subject that makes this narrative an unexpected page-turner. His curiosity is infectious, and the lessons he learns about how Ice Age people lived, what we can learn from them, and who they became resonate with serious staying power…. Childs has found history deeper than politics, and in rich, evocative prose, he makes it startlingly relevant to readers. A science title with broad and enduring appeal." —Booklist Online *starred review*