The Inventors at No. 8 (Paperback)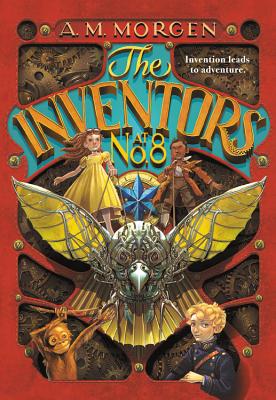 Description
---
Brimming with mystery and treasure, this action-packed tale sends a boy in need of luck and girl in need of a friend on an adventure that will change their lives forever.

Meet George, the third Lord of Devonshire and the unluckiest boy in London. Why is George so unlucky? First, he's an orphan. Second, unless he sells everything, he's about to lose his house. So when his family's last heirloom, a priceless map to the Star of Victory (a unique gem said to bring its owner success in any battle) is stolen by a nefarious group of criminals, George knows that there is no one less lucky--or more alone--than he is.

That is until Ada Byron, the future Countess of Lovelace, bursts into his life. She promises to help George recover his family legacy, and is determined to find her own father along the way--all in a flying machine she built herself. Joined by a mischievous orangutan and the long-lost son of an infamous pirate, Ada and George take off on a cross-continent journey through the skies that will change their lives, and perhaps the world, forever.
About the Author
---
A.M. Morgen comes from a long line of engineers and researchers but chose to pursue literature over the laboratory. She has a degree in English and works as an editor and writer. In her spare time, A.M. enjoys taking walks in the forest, trying out new hobbies (then abandoning them), and complaining about her mean cat. Despite what you may think, A.M. is not a morning person.
Praise For…
---
Praise for The Inventors at No. 8:
"The breathless plot is jam-packed with roguish thieves, tantalizing clues, and mild intrigue, and the narrative is filled with wry humor and kindness as George gradually gives up his self-centered sense of doom. A pleasing adventure."—
Kirkus Reviews
"Hidden motives and eccentric characters abound in this rollicking adventure."
—
WSJ
"Electrifying, whimsical, and wry,
The Inventors at No. 8
is an unmissable adventure for all the future inventresses in your life!"—
Sam Maggs, author of Wonder Women and The Fangirl's Guide to the Galaxy
"This raucous adventure keeps a frenetic pace...A great inclusion in STEM-focused fiction collections."
—
School Library Journal
"Morgen pulls off some handy misdirection in her fast-paced debut, and the combination of comical antics, miraculous machines, and a historical setting adds to the appeal."
—
Booklist
"This adventure story is full of inventions, suspense, and mayhem. Ada Byron is a great role model for girls...The novel focuses on the theme of family and friendship while emphasizing that family is not always related by blood. This is a great debut novel by Morgen."
—
School Library Connection
"This jolly romp has plenty of twists and turns, with anchoring themes of family, friendship, and learning to fight for what you love."
—
The Cleveland Plain Dealer
"Plenty of hijinks...to please middle-grade adventure readers and lure them back for a second volume."
—
BCCB