Mary Queen of Scotland and The Isles: A Novel (Paperback)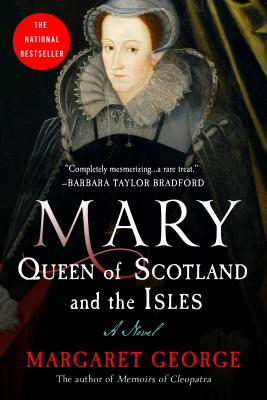 Description
---
Margaret George's exhaustively researched novel skillfully weaves both historical fact and plausible fiction in bringing the story of Mary Queen of Scots to life.
She was a child crowned a queen....
A sinner hailed as a saint....
A lover denounced as a whore...
A woman murdered for her dreams...
Margaret George's Mary Queen of Scotland and the Isles brings to life the fascinating story of Mary, who became the Queen of Scots when she was only six days old. Raised in the glittering French court, returning to Scotland to rule as a Catholic monarch over a newly Protestant country, and executed like a criminal in Queen Elizabeth's England, Queen Mary lived a life like no other, and Margaret George weaves the facts into a stunning work of historical fiction.
"With a seamless use of original letters, diaries, and poems: a popular, readable, inordinately moving tribute to a remarkable queen." -- Kirkus Reviews
About the Author
---
Margaret George is the author of The Autobiography of Henry VIII, Mary Queen of Scotland and the Isles, The Memoirs of Cleopatra, and Elizabeth I, among other novels. Margaret first got the idea to write historical fiction when, after reading numerous books that viewed Henry VIII through the eyes of his enemies and victims, she found herself wondering if there might be another side to the story. She became determined to let Henry speak for himself, and it took fifteen years, about three hundred books of background reading, three visits to England to see every extant building associated with Henry, and five handwritten drafts for her to answer the question: What was Henry really like? Margaret was born in Nashville, Tennessee, and has traveled extensively. She and her husband live in Madison, Wisconsin.
Praise For…
---
"The best kind of historical novel, one the reader can't wait to get lost in." —San Francisco Chronicle
"A massive, erudite, and entertaining novel that skillfully weaves historical fact and plausible fiction." —New York Newsday
"George has creative a lively, gallant Mary of intelligence, charm and terrible judgment...A popular, readable, inordinately moving tribute to a remarkable queen." —Kirkus Reviews (starred)
"A painstakingly researched novel that makes history live. The author's deep sympathy for her subject renders Mary an entirely real and unforgettable heroine." —Publishers Weekly (starred)
"An evocative portrait." —The New York Times Book Review
"Dramatic...Romantic...George makes Mary a heroine to identify with because of her spirit, wit and charm...A triumph." —Houston Chronicle