Look Me in the Eye: My Life with Asperger's (Hardcover)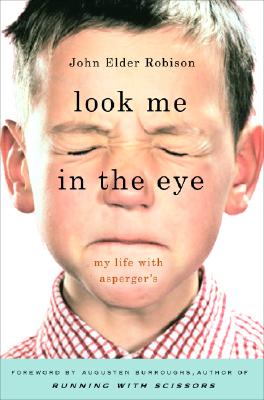 Description
---
Ever since he was small, John Robison had longed to connect with other people, but by the time he was a teenager, his odd habits—an inclination to blurt out non sequiturs, avoid eye contact, dismantle radios, and dig five-foot holes (and stick his younger brother in them)—had earned him the label "social deviant." No guidance came from his mother, who conversed with light fixtures, or his father, who spent evenings pickling himself in sherry. It was no wonder he gravitated to machines, which could, at least, be counted on.

After fleeing his parents and dropping out of high school, his savant-like ability to visualize electronic circuits landed him a gig with KISS, for whom he created their legendary fire-breathing guitars. Later, he drifted into a "real" job, as an engineer for a major toy company. But the higher Robison rose in the company, the more he had to pretend to be "normal" and do what he simply couldn't: communicate. It wasn't worth the paycheck.
It was not until he was forty that an insightful therapist told him he had the form of autism called Asperger's syndrome. That understanding transformed the way Robison saw himself—and the world.

Look Me in the Eye is the moving, darkly funny story of growing up with Asperger's at a time when the diagnosis simply didn't exist. A born storyteller, Robison takes you inside the head of a boy whom teachers and other adults regarded as "defective," who could not avail himself of KISS's endless supply of groupies, and who still has a peculiar aversion to using people's given names (he calls his wife "Unit Two"). He also provides a fascinating reverse angle on the younger brother he left at the mercy of their nutty parents—the boy who would later change his name to Augusten Burroughs and write the bestselling memoir Running with Scissors.

Ultimately, this is the story of Robison's journey from his world into ours, and his new life as a husband, father, and successful small business owner—repairing his beloved high-end automobiles. It's a strange, sly, indelible account—sometimes alien, yet always deeply human.
About the Author
---
John Elder Robison grew up in the 1960s, before the diagnosis of Asperger's syndrome existed. Today he has claimed his spot on the autism spectrum; he blogs for "Psychology Today" and is an adjunct professor at Elms College in Chicopee, Massachusetts. John serves on the Science Board of Autism Speaks and on the Public Review Board for the National Institutes of Health, where he considers research to improve the lives of autistic people and their families. He is also currently involved in autism research and programs at Beth Israel Deaconess Medical Center and Mass General Hospital, two teaching hospitals of the Harvard Medical School.

When he's not writing, speaking, or involved in studies, John can be found at Robison Service, the automobile company he founded twenty-five years ago. Robison Service has established a reputation as a leading independent restorer and customizer of BMW, Mercedes, Land Rover, Porsche, Rolls-Royce, and Bentley automobiles. Visit John's company at www.robisonservice.com.

John lives in western Massachusetts among family, friends, animals, and machines.
Praise For…
---
"Deeply felt and often darkly funny, Look Me in the Eye is a delight."
—People magazine, Critics Choice, 4 Stars

"It's a fantastic life story (highlights include building guitars for KISS) told with grace, humor, and a bracing lack of sentimentality."
—Entertainment Weekly

"Dramatic and revealing."
—Boston Globe

"Lean, powerful in its descriptive accuracy and engaging in its understated humor...Emotionally gripping."
—Chicago Tribune

"Robison's lack of finesse with language is not only forgivable, but an asset to his story . . . His rigid sentences are arguably more telling of his condition than if he had created the most graceful prose this side of Proust."
—Chicago Sun-Times

"Look Me in the Eye is a fantastic read that takes readers into the mind of an Aspergian both through its plot and through the calm, logical style in which Robison writes. . . Even if you have no personal connections with Asperger's, you'll find that Robison—like his brother, Burroughs—has a life worth reading about."
—Daily Camera

"Not only does Robison share with his famous brother, Augusten Burroughs (Running With Scissors), a talent for writing; he also has that same deadpan, biting humor that's so irresistible."
—ELLE magazine

"There's an endearing quality to Robison and his story that transcends the "Scissors" connection … Look Me in the Eye is often drolly funny and seldom angry or self-pitying. Even when describing his fear that he'd grow up to be a sociopathic killer, Robison brings a light touch to what could be construed as dark subject matter…Robison is also a natural storyteller and engaging conversationalist."
—The Boston Globe

"This is no misery memoir…[Robison] is a gifted storyteller with a deadpan sense of humour and the book is a rollicking read.
—Times (London)

"Robison's memoir is must reading for its unblinking (as only an Aspergian can) glimpse into the life of a person who had to wait decades for the medical community to catch up with him."
—Booklist

"Well-written and fascinating." --Library Journal

"Thoughtful and thoroughly memorable…Moving…In the end, Robison succeeds in his goal of "helping those who are struggling to grow up or live with Asperger's" to see how it "is not a disease" but "a way of being" that needs no cure except understanding and encouragement from others."
—Publishers Weekly

"Affecting, on occasion surprisingly comic memoir about growing up with Asperger's syndrome….The view from inside this little-understood disorder offers both cold comfort and real hope, which makes it an exceptionally useful contribution to the literature.
—Kirkus Reviews

"Of course this book is brilliant; my big brother wrote it. But even if it hadn't been created by my big, lumbering, swearing, unshaven 'early man' sibling, this is as sweet and funny and sad and true and heartfelt a memoir as one could find, utterly unspoiled, uninfluenced, and original."
—from the foreword by Augusten Burroughs, author of Running with Scissors

"Look Me In The Eye is a wonderful surprise on so many levels: it is compassionate, funny, and deeply insightful. By the end, I realized my vision of the world had undergone a slight but permanent alteration; I had taken for granted that our behavioral conventions were meaningful, when in fact they are arbitrary. That he is able to illuminate something so simple (but hidden, and unalterable) proves that John Elder Robison is at least as good a writer as he is an engineer, if not better."
—Haven Kimmel (who was in attendance at the 1978 KISS tour*), author of A Girl Named Zippy

"I hugely enjoyed reading Look Me in the Eye. This book is a wild rollercoaster ride through John Robison's life--from troubled teenage prankster to successful employment in electronics, music, and classic cars. A kindly professor introduced him to electrical engineering, which led to jobs where he found techie soulmates that were like him. A fascinating glimpse into the mind of an engineer which should be on the reading list of anyone who is interested in the human mind."
—Temple Grandin, author of Thinking in Pictures and Animals in Translation

"John Robison's book is an immensely affecting account of a life lived according to his gifts rather than his limitations. His story provides ample evidence for my belief that individuals on the autistic spectrum are just as capable of rich and productive lives as anyone else."
—Daniel Tammet, author of Born on a Blue Day: Inside the Extraordinary Mind of an Autistic Savant