Born to Run: A Hidden Tribe, Superathletes, and the Greatest Race the World Has Never Seen (Paperback)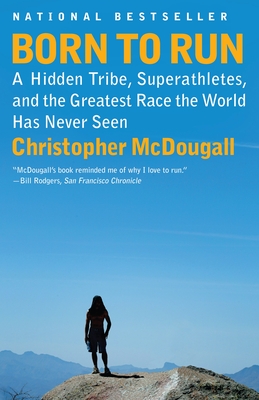 Staff Reviews
---
First, this is not just a book about running. It is a study in anthropology and history and is completely fascinating. Second, it DID get me running again after years of having no interest in it. McDougall is so sincere and real in his writing, I think any reader will find the story he tells compelling.
— Jamie
Description
---
The astonishing national bestseller and hugely entertaining story that completely changed the way we run.

An epic adventure that began with one simple question: Why does my foot hurt?
 
Isolated by Mexico's deadly Copper Canyons, the blissful Tarahumara Indians have honed the ability to run hundreds of miles without rest or injury. In a riveting narrative, award-winning journalist and often-injured runner Christopher McDougall sets out to discover their secrets. In the process, he takes his readers from science labs at Harvard to the sun-baked valleys and freezing peaks across North America, where ever-growing numbers of ultra-runners are pushing their bodies to the limit, and, finally, to a climactic race in the Copper Canyons that pits America's best ultra-runners against the tribe. McDougall's incredible story will not only engage your mind but inspire your body when you realize that you, indeed all of us, were born to run.
About the Author
---
Christopher McDougall is the author of Born to Run: A Hidden Tribe, Super Athletes, and the Greatest Race the World Has Never Seen and Natural Born Heroes: Mastering the Lost Secrets of Strength and Endurance.  He began his career as an overseas correspondent for the Associated Press, covering wars in Rwanda and Angola. He now lives and writes (and runs, swims, climbs, and bear-crawls) among the Amish farms around his home in rural Pennsylvania.

Christopher McDougall is available for select readings and lectures. To inquire about a possible appearance, please contact Random House Speakers Bureau at rhspeakers@randomhouse.com or visit www.rhspeakers.com.
Praise For…
---
"A tale so mind-blowing as to be the stuff of legend." —The Denver Post

"McDougall's book reminded me of why I love to run." —Bill Rodgers, San Francisco Chronicle

"Fascinating. . . . Thrilling. . . . An operatic ode to the joys of running." —The Washington Post
 
"It's a great book. . . . A really gripping read. . . .Unbelievable story . . . a really phenomenal book." —Jon Stewart on The Daily Show

"One of the most entertaining running books ever." —Amby Burfoot, Runnersworld.com
 
"Equal parts quest, physiology treatise, and running history. . . . [McDougall] seeks to learn the secrets of the Tarahumara the old-fashioned way: He tracks them down. . . . The climactic race reads like a sprint. . . . It simply makes you want to run." —Outside Magazine
 
"McDougall recounts his quest to understand near superhuman ultra-runners with adrenaline pumped writing, humor and a distinct voice...he never lets go from his impassioned mantra that humans were born to run." —NPR
 
"Born to Run is a fascinating and inspiring true adventure story, based on humans pushing themselves to the limits. It's destined to become a classic."–Sir Ranulph Fiennes, author of Mad, Bad and Dangerous To Know
 
"Equal parts hilarity, explanation and earnestness—whisks the reader along on a compelling dash to the end, and along the way captures the sheer joy that a brisk run brings." —Science News
 
"Born to Run is funny, insightful, captivating, and a great and beautiful discovery." —Lynne Cox, author of Swimming to Antarctica
 
"A page-turner, taking the reader on an epic journey in search of the world's greatest distance runners in an effort to uncover the secrets of their endurance." —The Durango Herald
 
"Driven by an intense yet subtle curiosity, Christopher McDougall gamely treads across the continent to pierce the soul and science of long-distance running."—Hampton Sides, author of Blood and Thunder and Ghost Soldiers