Dream-Child: A Life of Charles Lamb (Hardcover)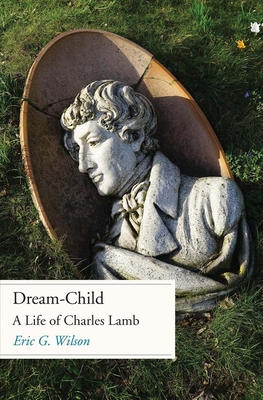 Description
---
An in-depth look into the life of Romantic essayist Charles Lamb and the legacy of his work
 
"[An] electrifying portrait of Charles Lamb."—New Yorker
 
A pioneer of urban Romanticism, essayist Charles Lamb (1775–1834) found inspiration in London's markets, theaters, prostitutes, and bookshops. He prized the city's literary scene, too, where he was a star wit. He counted among his admirers Mary Shelley, William Wordsworth, and Samuel Taylor Coleridge. His friends valued in his conversation what distinguished his writing style: a highly original blend of irony, whimsy, and melancholy.
 
Eric G. Wilson captures Lamb's strange charm in this meticulously researched and engagingly written biography. He demonstrates how Lamb's humor helped him cope with a life‑defining tragedy: in a fit of madness, his sister Mary murdered their mother. Arranging to care for her himself, Lamb saved her from the gallows. Delightful when sane, Mary became Charles's muse, and she collaborated with him on children's books. In exploring Mary's presence in Charles's darkly comical essays, Wilson also shows how Lamb reverberates in today's experimental literature.
About the Author
---
Eric G. Wilson is Thomas H. Pritchard Professor of English at Wake Forest University. He is the author of several books, including Everyone Loves a Good Train Wreck and Against Happiness.
Praise For…
---
"Eric G. Wilson's excellent Dream-Child, the first full-length biography since [E. V.] Lucas's in 1905, marks an important staging post on [Lamb's] road back to respectability."—Clare Bucknell, New York Review of Books

Named by the New Yorker as a Best Book of 2022

"[An] electrifying portrait of Charles Lamb."—New Yorker

"A literary life in the fullest sense . . . this biography is alive all over . . . a huge and eloquent book."—Australian Book Review

"A narrative rich in complexity and nuance. . . . One of the strengths of Wilson's work is that he makes Lamb unfamiliar, as he constantly recurs to the unstable explorations of authorship and identity that run through Lamb's work. . . . [Wilson] is a superb reader of Lamb. . . . Dream-Child brings Lamb's mind alive through his own words and is at its best when it cleaves closely to Lamb's writing."—Daisy Hay, Times Literary Supplement

"[Wilson] pins Lamb down by becoming Lamb-like himself. His biography is important because it is written in this spirit of becoming; it goes therefore a little headlong, almost beyond the genre; and it urges us, in sum, to explore for ourselves the twilit streets of the London of Lamb's spirit, bedimmed with the dark shapes of sanity, and the softer shadows of insanity that stalk his peculiar but enduring genius."—Adam Neikirk, Review 19

"Dream-Child does all that a superior biography of a writer ought to do. The book explains how Charles Lamb became a writer, the kind of writer he was, how his writing works, and why it has endured. While availing himself of all the resources of modern scholarship, Wilson does all this in an accessible style, filled with impressive observations and sly insights."—National Review

"This is easily one of the best literary biographies I have read in the last decade. Charles Lamb, so distinct from his famous Romantic-era contemporaries, is rendered here in all his strangeness and excess and idiosyncrasy, both magnificent and terribly sad."—John Wilson, First Things, "Year of Reading, 2022"

"Wilson combines shrewd analysis with original insights and discoveries to provide a valuable addition to the existing corpus of Lamb criticism."—Duncan Wu, Georgetown University

"A highly evocative and deeply informed life—the first for a century—of one of the most complex and sympathetic literary personalities of his time and one of the greatest English essayists of any age."—Seamus Perry, University of Oxford

"We have waited a long time for the definitive full-scale scholarly biography of Charles Lamb—master of the witty and winding essay—but now it has arrived. Eric Wilson's Dream-Child is not only a labor of love for a lovable figure, but also a vivid and skillful placing of Lamb in the context of Romanticism and early nineteenth-century London life."—Sir Jonathan Bate, author of Radical Wordsworth