Nuclear Weapons: A Very Short Introduction (Very Short Introductions) (Paperback)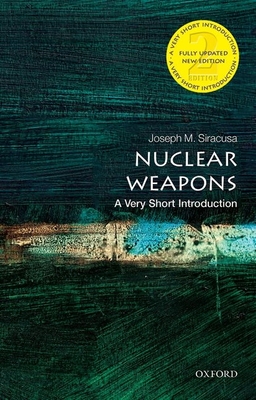 $11.95
Email staff@bookmarksnc.org for price & availability
Description
---
Despite not having been used in anger since Hiroshima and Nagasaki, the atomic bomb is still the biggest threat that faces us in the 21st century. As Bill Clinton's first secretary of defense, Les Aspin, aptly put it, The Cold War is over, the Soviet Union is no more. But the post-Cold War world is decidedly not post-nuclear. For all the effort to reduce nuclear stockpiles to zero, it seems that the bomb is here to stay. This Very Short Introduction reveals why. The history and politics of the bomb are explained: from the technology of nuclear weapons, to the revolutionary implications of the H-bomb, and the politics of nuclear deterrence. The issues are set against a backdrop of the changing international landscape, from the early days of development through the Cold War. In this new edition, Joseph M. Siracusa includes a new concluding chapter, moving away from the emphasis of nuclear weapons in the age of terrorism, to the significant lessons to be learnt from the history of the nuclear weapons era. Siracusa shows that because 21st century nuclear proliferation has deep roots in the past, an understanding of the lessons of this nuclear history is paramount for future global policies to be successful. ABOUT THE SERIES:
The Very Short Introductions series from Oxford University Press contains hundreds of titles in almost every subject area. These pocket-sized books are the perfect way to get ahead in a new subject quickly. Our expert authors combine facts, analysis, perspective, new ideas, and enthusiasm to make interesting and challenging topics highly readable.

About the Author
---
Joseph M. Siracusa is a Professor in Human Security and International Diplomacy and Deputy Dean of Global and Language Studies at the Royal Melbourne Institute of Technology, Australia. A native of Chicago and long-time resident of Australia, he studied at the University of Denver and the University of Vienna and received his PhD from the University of Colorado (Boulder). The author and co-author of numerous books, he is internationally known for his writings on the history of nuclear weapons, diplomacy, and global security.