Cosechando esperanza: La historia de César Chávez (Hardcover)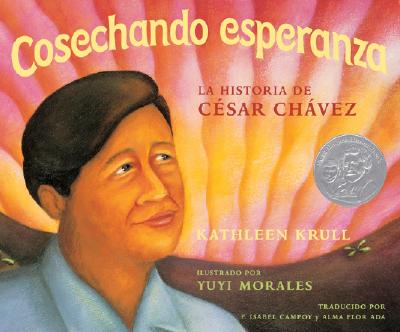 $17.00
Email or call for price.
Description
---
When Cesar Chavez led a 340-mile peaceful protest march through California, he ignited a cause and improved the lives of thousands of migrant farmworkers. But he wasn't always a leader. As a boy he was shy, soft-spoken, and teased at school. He lived in ramshackle sheds and slaved as a field hand. He knew things had to change, and he thought that--maybe--he could help change them. So Cesar took charge. He spoke up--and an entire country listened.

An author's note provides context for the life of the inspiring civil rights leader.
About the Author
---
Kathleen Krull is well known for her innovative, award-winning nonfiction for young people, including Lives of the Explorers, Lives of the Musicians, and all other books in this popular series illustrated by Kathryn Hewitt. She is also the author of Harvesting Hope: The Story of Cesar Chavez, illustrated by Yuyi Morales, as well as The Beatles Were Fab (and They Were Funny) and Lincoln Tells a Joke: How Laughter Saved the President (and the Country), both co-written with Paul Brewer and illustrated by Stacy Innerst. She lives in San Diego, California. Visit her online at kathleenkrull.com.
YUYI MORALES is a promising new picture book illustrator. A native of Mexico, she now lives in San Francisco where she is pursuing a degree in creative writing and developing her career as an artist. She is also a puppet-maker and the host of a Spanish-language storytelling radio show.
THE ACADEMY OF NUTRITION AND DIETETICS, formerly the American Dietetic Association, is the largest group of food and nutrition professionals in the world. As the advocate of the dietetic profession, the Academy serves the public by promoting optimal nutrition, health, and well-being.
F. Isabel Campoy is the author, translator, or anthologist of numerous books in the areas of poetry, theater, fictional narrative, biography, art, and bilingual education. She has been recognized with the Laureate Award from the San Francisco Public Library, the Reading the World Award, and many others. The California Association of Bilingual Education (CABE) has created an award in her name. She is a frequent speaker at national and international conferences on issues of transformative education, second language acquisition, and authentic writing. She lives in Northern California. Visit her at isabelcampoy.com and on Twitter at @fisabelcampoy.
Praise For…
---
Praise for the English edition: tk