The Body: A Guide for Occupants (CD-Audio)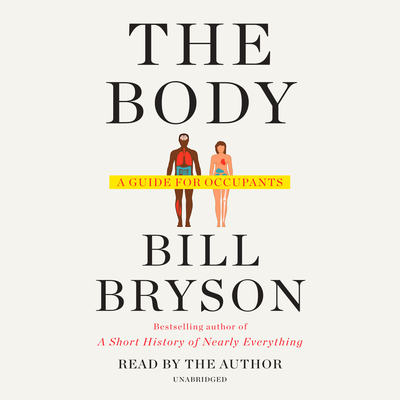 Staff Reviews
---
This fascinating book tells you everything you ever needed to know about the human body - and how we know what we know! Read this one in the same room as a friend so you can tell them all the facts you learn.
— Kate
Description
---
AN INSTANT NEW YORK TIMES BESTSELLER
NAMED A BEST BOOK OF THE YEAR BY THE WASHINGTON POST 
LONGLISTED FOR THE PEN E.O. WILSON LITERARY SCIENCE WRITING AWARD

"Glorious. . .You will marvel at the brilliance and vast weirdness of your design." —The Washington Post 

Bill Bryson, bestselling author of A Short History of Nearly Everything, takes us on a head-to-toe tour of the marvel that is the human body. As addictive as it is comprehensive, this is Bryson at his very best, a must-read owner's manual for everybody.

Bill Bryson once again proves himself to be an incomparable companion as he guides us through the human body--how it functions, its remarkable ability to heal itself, and (unfortunately) the ways it can fail. Full of extraordinary facts (your body made a million red blood cells since you started reading this) and irresistible Bryson-esque anecdotes, The Body will lead you to a deeper understanding of the miracle that is life in general and you in particular. As Bill Bryson writes, "We pass our existence within this wobble of flesh and yet take it almost entirely for granted." The Body will cure that indifference with generous doses of wondrous, compulsively readable facts and information.
About the Author
---
BILL BRYSON's bestselling books include A Walk in the Woods, Notes from a Small Island, I'm A Stranger Here Myself, In a Sunburned Country, A Short History of Nearly Everything (which earned him the 2004 Aventis Prize), The Life and Times of the Thunderbolt Kid, At Home, and One Summer. He lives in England with his wife.
Praise For…
---
"Glorious. . .Having described the physical nature of our world and beyond, from the atomic to the intergalactic, in The Body [Bryson] now turns inward to explain—in his lucid, amusing style—what we're made of. . .Astonishing . .Draws on dozens of experts and a couple hundred books to carry the reader from outside to inside, from up to down and from miraculous operational efficiencies to malignant mayhem when things go awry. . .You will marvel at the brilliance and vast weirdness of your design." —The Washington Post 

"Delightful. . .Reveals the thousands of rarely acknowledged tasks our body takes care of as we go about our day. . .Informative, entertaining and often gross (kissing, according to one study, transfers up to one billion bacteria from one mouth to another, along with 0.2 micrograms of food bits). . . Bryson, who gives off a Cronkite-like trustworthy vibe, is good at allaying fears and busting myths." —A.J. Jacobs, The New York Times Book Review 

"Mr. Bryson's latest book is a Baedeker of the human body, a fact-studded survey of our physiques, inside and out. Many authors have produced such guides in recent years, and some of them are very good. But none have done it quite so well as Mr. Bryson, who writes better, is more amusing and has greater mastery of his material than anyone else. . .[He] is a master explainer, with a gift for the pithy simile and all-encompassing metaphor. . .[His] love of language is often on display, and he can't resist occasional indulgences on the origins of terms medical and anatomical. . .Mr. Bryson's account is enlivened by his excellent command of the history of medicine. . .Brisk, provocative and entertaining throughout." —The Wall Street Journal 

"Fascinating." —NPR

"Like an adventurer trekking the Appalachian Trail from beginning to end (as this bestselling author did for A Walk in the Woods), Bryson launches himself into the wilderness of the human anatomy armed with his characteristic thoroughness and wit. He ably dissects the knowns and unknowns of how we live and die and all the idiosyncrasies of our shared infrastructure. . .This book is full of such arresting factoids and, like a douser hunting water, Bryson is adept at finding the bizarre and the arcane in his subject matter. . .Amazing." —USA Today 

"A witty, informative immersion. . .The Body—a delightful, anecdote-propelled read—proves one of his most ambitious yet, as he leads us on a head-to-toe tour of a physique that's terra incognita to many of us. . .Playful, lucid. . .[Bryson] cover[s] a remarkably large swathe of human corporeal and cerebral experience." —The Boston Globe

"A directory of wonders. . .Extraordinary. . . A tour of the minuscule; it aims to do for the human body what his A Short History of Nearly Everything did for science. . .The prose motors gleefully along, a finely tuned engine running on jokes, factoids and biographical interludes. . .Wry, companionable, avuncular and always lucid . . .[The Body] could stand as an ultimate prescription for life." —The Guardian

"A delightful tour guide. . .Bryson's stroll through human anatomy, physiology, evolution, and illness (diabetes, cancer, infections) is instructive, accessible, and entertaining."  —Booklist, starred review 

"A pleasing, entertaining sojourn into the realm of what makes us tick." —Kirkus Reviews