Dera Sacha Sauda and Gurmeet Ram Rahim (Paperback)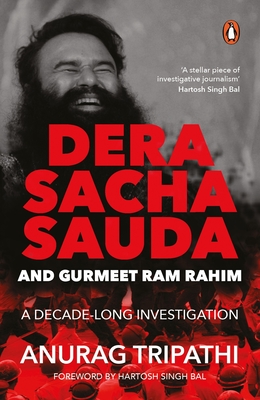 $14.95
Unavailable in store; contact staff@bookmarksnc.org to check price and order availability
Description
---
A journalist's account of investigating Gurmeet Ram Rahim and his empire of exploitation
How did a nondescript young man from a farming family become the head of a quasi-religious sect with a million followers willing to die and kill for their 'Pitaji'?
The story of the rise of Gurmeet Ram Rahim Singh Insan of the wildly popular Dera Sacha Sauda is anything but ordinary. It allegedly involved sexual exploitation, forced castrations, private militias, illegal trade in arms and opium, and land grab on an untold scale-until the self-styled godman was convicted for one of his many crimes in August 2017.
The book opens with an anonymous letter which led to the first-ever journalistic investigation, in 2007-Tehelka's Operation Jhootha Sauda-into the reported criminal activities at the Dera. In the years that followed, the author continued to document the lonely battles for justice against the influential godman who had the might of the Dera's machinery and manpower behind him.
This book is as much about the grit and determination of ordinary citizens fighting power systems as it is about the difficulty of investigating crimes committed by the rich and powerful in India today.
About the Author
---
Anurag Tripathi is an investigative journalist with sixteen years of experience spanning print, electronic and digital media. He has worked as editor, reportage, at Newslaundry, and senior associate editor, Tehelka. He started his career with the Hindustan Times, Lucknow, and has worked with the Times of India, Aaj Tak, India TV and NewsX.
In the course of his career, besides Operation Jhootha Sauda, Anurag's investigations have included busting an AK-47 arms racket in western Uttar Pradesh, exposing corruption in the power sector
in Andhra Pradesh, unravelling a drug racket run by an MLA in Lucknow, and bringing to light the issue of fake caste certificates in Uttar Pradesh-and these have had on-the-ground impact in the form of official inquiries and government action.