How to Be Weird: An Off-Kilter Guide to Living a One-of-a-Kind Life (Paperback)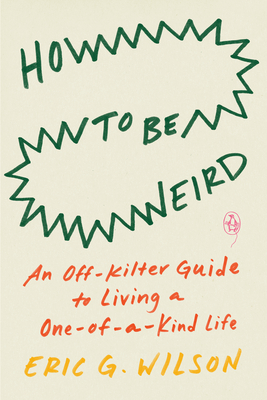 Description
---
A guidebook for beating the monotony of the everyday by purposefully cultivating the surprising joys that come from living an off-kilter life

It's all too easy to get caught up in the often monotonous nature of our day to day--moving from one rote task to the next, only to rinse and repeat the next day. Weirdness, however, is an easily accessible antidote to these feelings of languishing. The quirky, eccentric, and peculiar can take us out of our normal habits of thought and perception, surprising us by breaking up our routines and reminding us that there's more to life than the everyday.

In How to Be Weird, Eric G. Wilson offers 99 fun and philosophically rich exercises for embracing all the weird in the world around us--taking aimless walks, creating a reverie nook, exploring the underside of bridges, making tombstone rubbings, finding your own Narnia, and more.

With brief digestible entries on how to make sense of the random, guidelines on how to defamiliarize familiar objects through meditation, and exercises for locating weird states and phenomena for ourselves, How to Be Weird is an invitation to lean into the weird and to live a fuller life.
About the Author
---
Author Bio: Eric G. Wilson is the Thomas H. Pritchard Professor of English at Wake Forest University. He is the author of books Against Happiness: In Praise of Melancholy, an LA Times bestseller; Everyone Loves a Good Train Wreck: Why We Can't Look Away; and Keep it Fake: Inventing an Authentic Life, as well as many other books exploring connections among literature, film, and psychology.

Praise For…
---
"From start to finish, this book has great re-readability and a fun voice. Highly recommended for bibliophiles and those who want to break a little right-brain sweat." —Library Journal, starred review

"A whimsical guide to embracing eccentricity . . . Wilson doesn't skimp on the strangeness and delivers a self-help guide defiantly unlike any other. This quirky volume welcomes the unconventional with humor and insight." —Publishers Weekly