The Further Adventures of Ebenezer Scrooge: A Christmas Carol Continued (Paperback)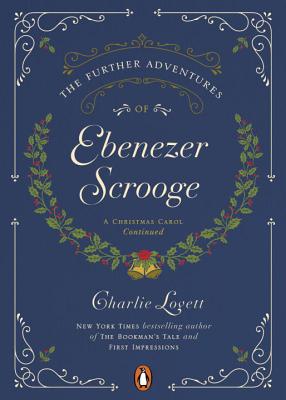 Description
---
A delightful sequel to Dickens's beloved A Christmas Carol by the bestselling author of First Impressions and The Bookman's Tale. Charlie Lovett's new book, The Lost Book of the Grail, is now available.

On a hot summer day some twenty years after he was famously converted to kindness, Ebenezer Scrooge still roams the streets of London, spreading Christmas cheer, much to the annoyance of his creditors, nephew, and his employee Bob Cratchit. However, when Scrooge decides to help his old friend and former partner Jacob Marley, as well as other inhabitants of the city, he will need the assistance of the very people he's annoyed. He'll also have to call on the three ghosts that visited him two decades earlier. By the time they're done, they've convinced everyone to celebrate Christmas all year long by opening their wallets, arms, and hearts to those around them.

Written in uncannily Dickensian prose, Charlie Lovett's The Further Adventures of Ebenezer Scrooge is both a loving and winking tribute to the Victorian classic, perfect for readers of A Christmas Carol and other timeless holiday tales.
About the Author
---
Charlie Lovett is a former antiquarian bookseller, an avid book collector and a member of The Grolier Club, the oldest and largest club for bibliophiles in America. A teacher and playwright, his plays for children have been seen in more than three thousand productions. He and his wife split their time between North Carolina and England.


From the Hardcover edition.
Praise For…
---
Praise for The Further Adventures of Ebenezer Scrooge

"I have great affection for A Christmas Carol and old Ebenezer Scrooge . . . [and] was thoroughly charmed by Lovett's clever, merry, and, yes, convincingly Dickensian reimagining of this Victorian tale. . . . The Further Adventures of Ebenezer Scrooge will help you keep Christmas well, all over again." —USA Today

"Charlie Lovett has a flair for creating new adventures for familiar characters, and his The Further Adventures of Ebenezer Scrooge will make you love Dickens and "A Christmas Carol" once again. . . . Lovett . . . brings humor and heart to characters who don't possess much of either. We even find Scrooge reading Dickens throughout the story. Social concerns such as poverty, hunger, and the ignorance of the austere were Dickens-worthy issues that Lovett forces the reader to confront. He shines a light on the ripples of human kindness that can change whole societies and manages to entertain the reader with every turn of the page." —St. Louis Post-Dispatch

"Lovett has written a delightful sequel to Charles Dickens's A Christmas Carol. . . . Told in the style of Dickens with a sly wit, this is an excellent companion to the original Christmas classic." —Library Journal

"Consider this book as one to drop in stockings by the fireplace or give as a gift to those who already know one person can make a difference in the lives others, or to those who need such a reminder . . . an enjoyable literary excursion." —Durham Herald-Sun

A Parade Magazine Book for Every Stocking pick

"When we last heard from Mr. Scrooge, he was bursting with Christmas cheer. Here, author Charlie Lovett picks up the story (ghosts and all) of what happens 20 years later." —Parade Magazine

"Charlie Lovett has found his niche in writing novels that combine his passion for classic English literature with his gifts as a storyteller . . . Lovett has delivered a charming and memorable addition to the Christmas tradition."—Chapter 16


Praise for First Impressions
 
"A delightful novel." —People
 
"[First Impressions] is, at its heart, a love letter to fiction—not just for its writers, but also for its readers." —Washington Post
 
"A one hundred percent thumping good read and a loving homage to one of literature's most beloved authors." —BookPage

 
Praise for The Bookman's Tale
 
"Lovett tells his story with ease, charm and a faith in his characters that eventually draws them into our sympathies." —USA Today
 
"An immensely satisfying and pleasurable read." —Seattle Post-Intelligencer


From the Hardcover edition.