We Run the Tides: A Novel (Hardcover)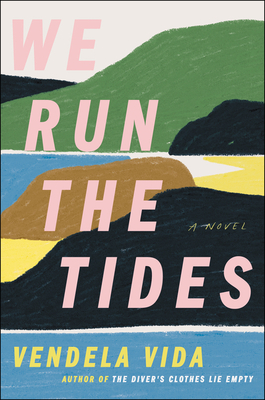 $26.99
Coming Soon - Available for Pre-Order Now
Staff Reviews
---
We have a limited quantity of signed copies available for pre-order!
— From
Preorders
Description
---
An achingly beautiful and wickedly funny story of female friendship, betrayal, and a mysterious disappearance, set in the changing landscape of San Francisco 

Teenage Eulabee and her alluring best friend, Maria Fabiola, own the streets of Sea Cliff, their foggy, oceanside San Francisco neighborhood. They know the ins and outs of the homes and beaches, Sea Cliff's hidden corners and eccentric characters—as well as the swanky all-girls' school they attend. Their lives move along uneventfully, with afternoon walks by the ocean and weekend sleepovers. Then everything changes. Eulabee and Maria Fabiola have a disagreement about what they did or didn't witness on the way to school one morning, and this creates a schism in their friendship. The rupture is followed by Maria Fabiola's sudden disappearance—a potential kidnapping that shakes the quiet community and threatens to expose unspoken truths.
Suspenseful and poignant, We Run the Tides is Vendela Vida's masterpiece depiction of an inimitable place on the brink of radical transformation. Pre–tech boom San Francisco finds its mirror in the changing lives of the teenage girls at the center of this story of innocence lost, the pain of too much freedom, and the struggle to find one's authentic self. Told with a gimlet eye and great warmth, We Run the Tides is both a gripping mystery and a tribute to the wonders of youth, in all its beauty and confusion.  
About the Author
---
Vendela Vida is the award-winning author of six books, including Let the Northern Lights Erase Your Name and The Diver's Clothes Lie Empty. She is a founding editor of The Believer magazine, and co-editor of The Believer Book of Writers Talking to Writers and Confidence, or the Appearance of Confidence, a collection of interviews with musicians. She was a founding board member of 826 Valencia, the San Francisco writing center for youth, and lives in the Bay Area with her family.    
Praise For…
---
"The young narrator of Vendela Vida's new novel is cast out of her friend crew (For what? For nothing) at the moment she and the girls around her are just beginning to understand the power they hold, and how to wield it. There's violence lurking here, but also humor (it's funny!), also love. This is one of the best novels about girlhood and female friendship I've ever read."  
— Mary Beth Keane, author of Ask Again, Yes

"I didn't want it to end." 
— Tom Stoppard 

"The dreamy yearning and turmoil of youth are evoked here so vividly as to seem supernaturally conjured.  However long ago you were a teenager, We Run the Tides will bring the quandaries and sensations right back.  Vendela Vida has written a novel of absorbing, exquisite economy and percipience.  She has also written an intimate allegory of our unraveling tether to truth."
— Lisa Halliday, author of Asymmetry

"The girls in this book are everything, all of us: shape-shifters and outcasts, predators and prey, they lean into and away from the world that claims to know them. Vendela Vida is an astoundingly good writer and the ideas she's wrestling with in these pages—about sexuality and seeing, storytelling and identity—are profound."
— Danzy Senna, author of New People