The Faceless Old Woman Who Secretly Lives in Your Home: A Welcome to Night Vale Novel (Hardcover)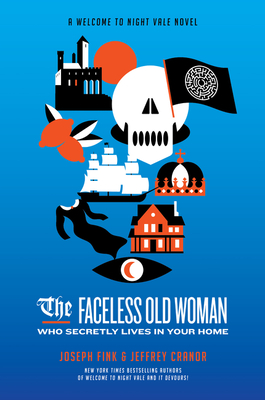 Other Books in Series
This is book number 3 in the Welcome to Night Vale series.
Staff Reviews
---
Do you love Night Vale as much as I do? Don't know what Night Vale is? That's okay, I forgive you. But do yourself a favor and read this book about assassins, pirates, and yes! The Faceless Old Woman Who Secretly Lives in Your House, the beloved Night Vale prankster who ran for mayor and just wants what's best for you! Take the leap into Night Vale with this new book by Joseph Fink and Jeffrey Cranor, and seriously, check out the Welcome to Night Vale podcast.
— Lany
With all Night Vale stories, I did not know I needed this in my life until I picked up this book and took it for a spin, and so mote it be. "The Faceless Old Woman Who Secretly Lives in Your Home" is a stand-alone novel that definitely fits perfectly into the Night Vale universe that Joseph Fink and Jeffrey Cranor have been building on since 2012. When first introduced to Craig, I had no idea what was haunting him, or why. And then, the story hit me like a crashing, cyanide-filled wave and continues to do so just when I could finally come up for air again. Assassins, revenge, pirates, (ghouls or whatever you want to call them), and generations of tomfoolery at the expense of an old family, all steer and weave the story that makes this book so fantastic. You don't have to read all the other Night Vale books nor know the podcast to love how absurd and well-written this book is, but if you haven't, you might want to. It definitely takes a big toe to dip into this universe, and I recommend everyone take the leap into Night Vale. --Lany
— From
3-2-1 Spring
Description
---
From the New York Times bestselling authors of Welcome to Night Vale and It Devours! and the creators of the hit podcast, comes a new novel set in the world of Night Vale and beyond.
In the town of Night Vale, there's a faceless old woman who secretly lives in everyone's home, but no one knows how she got there or where she came from...until now. Told in a series of eerie flashbacks, the story of The Faceless Old Woman goes back centuries to reveal an initially blissful and then tragic childhood on a Mediterranean Estate in the early nineteenth century, her rise in the criminal underworld of Europe, a nautical adventure with a mysterious organization of smugglers, her plot for revenge on the ones who betrayed her, and ultimately her death and its aftermath, as her spirit travels the world for decades until settling in modern-day Night Vale.
Interspersed throughout is a present-day story in Night Vale, as The Faceless Old Woman guides, haunts, and sabotages a man named Craig. In the end, her current day dealings with Craig and her swashbuckling history in nineteenth century Europe will come together in the most unexpected and horrifying way.
Part The Haunting of Hill House, part The Count of Monte Cristo, and 100% about a faceless old woman who secretly lives in your home.
About the Author
---
Joseph Fink created the Welcome to Night Vale and Alice Isn't Dead podcasts. He lives in the Hudson Valley and Los Angeles. 
Jeffrey Cranor cowrites the Welcome to Night Vale and Within the Wires podcasts. He also cocreates theater and dance pieces with choreographer/wife Jillian Sweeney. They live in New York.
Praise For…
---
"Eerie, enchanting . . . offers up a Shakespearian revenge drama that doubles as the origin story of one of Night Vale's most mysterious resident….With this tightly plotted adventure, Fink and Cranor successfully expand their universe beyond Night Vale's desert setting. The protagonist's matter-of-fact descriptions of the strange and horrible, meanwhile, will draw in readers. Newcomers need not be familiar with the Night Vale podcast to enjoy this standout tale."
— Publishers Weekly

A cinematic tale full of endless twists, The Faceless Old Woman Who Secretly Lives in Your Home is a unique horror story with a rare swashbuckling and complex female protagonist I couldn't get enough of. The writing throws you into a colorful, intelligent world of ups and downs, scares and laughs, and nuanced heroes and villains that keeps you gripped with anticipation for an ending you know will horrify you. Just when you think you know what's happening, the Faceless Old Woman will flip you around and make you question morality with a delicious, fun, well-crafted frustration. 
— Gaby Dunn, New York Times bestselling author of I Hate Everyone but You

"A chilling ghost story. …. A decades long, globe-spanning saga of adventure, betrayal, love, and fate [about] one of Welcome to Night Vale's most enigmatic and terrifying characters. . . How these stories converge and how the narrator becomes immortal are merciless in their ingenuity and immensely satisfying. . .. A funny, terrifying, and unpredictable slice of Night Vale's macabre history."
— Kirkus Reviews (starred review)

"The distinctly spare and precise weirdness of Fink and Cranor's writing (It Devours!, 2017) will please even readers completely unfamiliar with the sinister town."
— Booklist

"Fink and Cranor are masters of the long narrative game. They have a clear vision in mind, and every element of the book builds toward it, with emotionally devastating, sometimes brutally funny, results. The Faceless Old Woman Who Secretly Lives in Your Home is an excellent, absorbing book."
— New York Journal of Books

"For fans of the podcast and the other Night Vale novels, The Faceless Old Woman Who Secretly Lives in Your Home likely feels long overdue. Equal parts running joke and legitimate character, the Faceless Old Woman's history has been rarely alluded to, but here she—and her world—comes alive, tempting readers with sweet oranges, the smell of the sea and the bitter taste of betrayal."
— BookPage