Hello Girls (Paperback)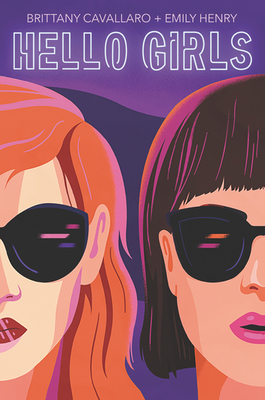 $10.99

Available to order; typically arrives at Bookmarks in 5-10 days
Description
---
Thelma and Louise gets remade in this powerful, darkly funny novel from acclaimed authors Brittany Cavallaro and Emily Henry. When Winona and Lucille have had enough of the controlling men in their lives, they take their rage on the road to make a new life for themselves.
Winona has been starving for life in the seemingly perfect home that she shares with her seemingly perfect father, celebrity weatherman Stormy Olsen. No one knows that he locks the pantry door to control her eating and leaves bruises where no one can see them.
Lucille has been suffocating beneath the needs of her mother and her drug-dealing brother, wondering if there's more out there for her than disappearing waitress tips and a lifetime of barely getting by.
One harrowing night, Winona and Lucille realize they can't wait until graduation to start their new lives. They need out. Now. One hour later, they're armed with a plan that will take them from their small Michigan town to Chicago.
All they need is three grand, fast. And really, a stolen convertible can't hurt.
Chased by the oppression, toxicity, and powerlessness that has held them down, Winona and Lucille must reclaim their strength if they are going to make their daring escape—and get away with it.
Brittany Cavallaro is the author of the New York Times bestselling Charlotte Holmes series. Emily Henry is the #1 New York Times bestselling author of Book Lovers, People We Meet on Vacation and Beach Read. Together, they have created "a razor-sharp union of sidesplitting dark comedy, fierce feminism, and poignant friendship, paced like an Alfa-Romeo at full throttle, and written in gleaming, perfect, gut-punch sentences." (Jeff Zentner, Morris Award-winning author of The Serpent King)
About the Author
---
Brittany Cavallaro is the New York Times bestselling author of A Study in Charlotte and the Charlotte Holmes novels. With Emily Henry she wrote the young adult thriller Hello Girls. Cavallaro is also the author of the poetry collections Girl-King and Unhistorical and is the recipient of a National Endowment for the Arts fellowship in poetry. She lives in Michigan, where she teaches creative writing at Interlochen. 
Emily Henry is the #1 New York Times bestselling author of Book Lovers, People We Meet on Vacation, and Beach Read, as well as the coauthor of Hello Girls with Brittany Cavallaro. She lives and writes in Cincinnati and the part of Kentucky just beneath it. Find her on Instagram @EmilyHenryWrites.
Praise For…
---
"The girls' voices are authentic, and readers will enjoy a feeling of female empowerment as they follow them on their road trip... Drawing inspiration from Thelma & Louise, this book provides a fun, fast-paced plot with resourceful feminist protagonists." — Kirkus Reviews
"Hello Girls is exactly the kind of smart, angry, tender-hearted, patriarchy-dismantling story that I've been hungering for, with a gorgeous, complex friendship at its core. Beautifully written, with a thrumming vitality in every sentence and characters so real that their passions, hurts, and triumphs will leave you breathless." — Claire Legrand, New York Times bestselling author of Furyborn and Sawkill Girls
"Hello Girls is a razor-sharp union of sidesplitting dark comedy, fierce feminism, and poignant friendship, paced like an Alfa-Romeo at full throttle, and written in gleaming, perfect, gutpunch sentences." — Jeff Zentner, Morris Award-winning author of The Serpent King
"A stirring tale of female friendship, loyalty, and the depth of love." — Mindy McGinnis, Edgar Award-winning author of The Female of the Species
"Holy cats, I loved this book. Electric and powerful and so, so smart, Hello Girls is the YA Thelma & Louise I didn't know was missing from my life. Winona and Lucille--and Cavallaro + Henry--make a fierce, fantastic team." — New York Times bestselling author Katie Cotugno
"Fans of nonstop action will enjoy the collaborative novel's unrelenting pace." — Publishers Weekly
"A wild ride that finds its footing in the deep bonds of friendship." — ALA Booklist
"A witty, sharply-observed critique of patriarchal norms... a fierce celebration of the power of female friendship... smart, fast-paced, and immensely enjoyable... perfect for fans of Jeff Zentner's Rayne and Delilah's Midnight Matinee or Kody Keplinger's Run." — School Library Journal
"It's easy to draw parallels between Hello Girls and other dark girl-power comedies like Thelma and Louise, but Cavallaro and Henry offer something extra in Lucille and Winona's relationship... The high stakes come across as genuine and realistic, and the girls tackle their traumas with grit and humor. Readers will find comfort in the resilience of the characters and the strength of their friendship." — Bulletin of the Center for Children's Books
"If Gillian Flynn decided to write a YA novel, it might go something like this...Cavallaro and Henry write with sharp, crisp voices, imbuing their heroines with wit and outsized imagination. They capture the idiosyncrasies of young female friendship with startling acuity... A novel that taps into something elemental about the ferocity of female adolescence... a page-turning tale with a potent electric current at its heart." — Entertainment Weekly