Pride: A Pride & Prejudice Remix (Paperback)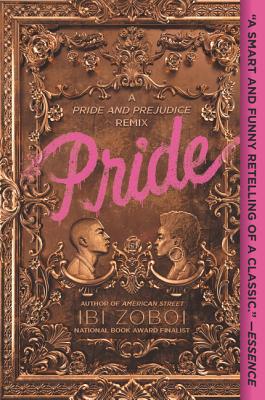 Staff Reviews
---
I had no idea going into this, how she was going to retell Pride & Prejudice....but she did an amazing job. I was able to tell which of her characters represented the characters in the Austen novel easily, and I really appreciated how much she was still able to give them each their own depth and personality. I was really invested in the story and outcome, even though I had read the Austen novel, and one of the things I loved the most was the Bushwick background. Her description of the neighborhoods and the people that lived in them was one of the most enjoyable aspects of this book. A must read!
— Ellen
Description
---
In a timely update of Jane Austen's Pride and Prejudice, National Book Award finalist Ibi Zoboi skillfully balances cultural identity, class, and gentrification against the heady magic of first love in her vibrant reimagining of this beloved classic. A smart, funny, gorgeous retelling starring all characters of color. 
Zuri Benitez has pride. Brooklyn pride, family pride, and pride in her Afro-Latino roots. But pride might not be enough to save her rapidly gentrifying neighborhood from becoming unrecognizable.
When the wealthy Darcy family moves in across the street, Zuri wants nothing to do with their two teenage sons, even as her older sister, Janae, starts to fall for the charming Ainsley. She especially can't stand the judgmental and arrogant Darius. Yet as Zuri and Darius are forced to find common ground, their initial dislike shifts into an unexpected understanding.
But with four wild sisters pulling her in different directions, cute boy Warren vying for her attention, and college applications hovering on the horizon, Zuri fights to find her place in Bushwick's changing landscape, or lose it all.
"Zoboi skillfully depicts the vicissitudes of teenage relationships, and Zuri's outsize pride and poetic sensibility make her a sympathetic teenager in a contemporary story about race, gentrification, and young love." (Publishers Weekly, "An Anti-Racist Children's and YA Reading List")
About the Author
---
Ibi Zoboi is the New York Times bestselling author of American Street, a National Book Award finalist; Nigeria Jones; Pride; My Life as an Ice Cream Sandwich; Star Child; Okoye to the People; the Walter Award–winning Punching the Air, cowritten with Exonerated Five member Yusef Salaam; and the Coretta Scott King Honor–winning picture book The People Remember. She is also the editor of the anthology Black Enough. Born in Haiti and raised in New York City, she now lives in New Jersey with her family. You can find her online at ibizoboi.net.
Praise For…
---
★ "This Bushwick-set, contemporary retelling of Jane Austen's Pride and Prejudice tackles gentriciation, Blackness, and romance with honesty, humor, and heart. This excellent coming-of-age take on a classic belongs on all YA shelves." — School Library Journal (starred review)
★ "Stands solidly on its own while cleverly paralleling Austen's classic… in a contemporary story about race, gentrification, and young love" — Publishers Weekly (starred review)
"A razor-sharp remix of Jane Austen's Pride and Prejudice that deals in gentrification, racism, love, culture, and heritage, all helmed by intelligent teens in New York's Bushwick neighborhood." — Booklist
"[A] lively and innovative Pride and Prejudice retelling (starring a fully rounded Afro-Latinx YA character)" — The Horn Book
"Jane Austen's piercing comedy of manners provides the ideal template for Ibi Zoboi's shrewd, timely second novel..." — Chicago Tribune
"Brooklyn's gentrifying Bushwick neighborhood offers the vivid backdrop for this entertaining update, adding complicating factors of cultural identity and racism to Austen's classic tale." — Buffalo News
Praise for AMERICAN STREET: "Mixing gritty street life with the tenderness of first love, Haitian Vodou, and family bonds, the book is at once chilling, evocative, and reaffirming." — Publishers Weekly (starred review)
Praise for AMERICAN STREET: "Filling her pages with magic, humanity, tragedy, and hope, Zoboi builds up, takes apart, and then rebuilds an unforgettable story. This book will take root in readers' hearts." — Kirkus Reviews (starred review)
Praise for AMERICAN STREET: "Zoboi urges us to examine the American dream to see if there is room within it to hold the ones we love." — Ebony Magazine
Praise for AMERICAN STREET: "Zoboi's stunning debut intertwines mysticism and love with grit and violence…Fierce and beautiful." — Booklist (starred review)
Praise for AMERICAN STREET: "Will reach young readers regardless of their background." — Bulletin of the Center for Children's Books (starred review)
Praise for AMERICAN STREET: "A breathtaking story about contemporary America that will serve as a mirror to some and a window for others, and it will stay with anyone who reads it." — School Library Journal (starred review)
Praise for AMERICAN STREET: "A poignant meditation on one girl's struggle to find her way in a new world." — Nicola Yoon, New York Times bestselling author of The Sun is Also a Star and Everything, Everything
Praise for AMERICAN STREET: "Brimming with culture, magic, warmth, and unabashed rawness, "American Street" is ultimately a blistering tale of humanity. This is "Manchild in the Promised Land," for a new generation, and a remarkable debut from Zoboi, who without question is an inevitable force in storytelling." — Jason Reynolds, award-winning co-author of All American Boys
Praise for AMERICAN STREET: "Zoboi's nascent storytelling gifts ensnare from page one. To this spellbinding voice of the next generation, I bow." — Rita Williams-Garcia, New York Times bestselling author and three-time winner of the Coretta Scott King Award