Death and the Maiden (Mistress of the Art of Death) (Hardcover)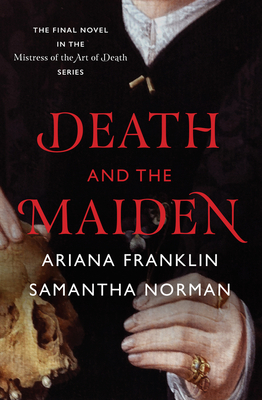 $27.99
Unavailable in store; contact staff@bookmarksnc.org to check price and order availability
Description
---
"Superb...an appropriate homage"—Marilyn Stasio, New York Times
The much-anticipated final installment in Ariana Franklin's popular Mistress of the Art of Death historical mystery series, finished by the author's daughter after her death.
England. 1191. After the death of her friend and patron, King Henry II, Adelia Aguilar, England's vaunted Mistress of the Art of Death, is living comfortably in retirement and training her daughter, Allie, to carry on her craft—sharing the practical knowledge of anatomy, forensics, and sleuthing that catches murderers. Allie is already a skilled healer, with a particular gift for treating animals. But the young woman is nearly twenty, and her father, Rowley, Bishop of Saint Albans, and his patron, the formidable Queen Eleanor of Aquitaine, have plans to marry Allie to an influential husband . . . if they can find a man who will appreciate a woman with such unusual gifts.
When a friend in Cambridgeshire falls ill, Allie is sent to Ely, where her path will cross with Lord Peverill, a young aristocrat who would be a most suitable match for the young healer. But when Allie arrives, all is chaos. A village girl has disappeared—and she's not the first. Over the past few months, several girls from the villages surrounding Ely have vanished. When the body of one of the missing is discovered, Allie manages to examine the remains before burial. The results lead her to suspect that a monstrous predator is on the loose. Will her training and her stubborn pursuit of the truth help her find the killer...or make her the next victim?
A richly detailed, twisty thriller, Death and the Maiden is historical mystery at its finest—and a superb final episode in Ariana Franklin's much-loved, much-acclaimed series.
About the Author
---
Samantha Norman is Ariana Franklin's daughter. A successful feature writer, columnist, and film critic, she lives in London.
Ariana Franklin was the award-winning author of Mistress of the Art of Death and the critically acclaimed, bestselling medieval thriller series of the same name, as well as the twentieth-century thriller City of Shadows. She died in 2011, while writing The Siege Winter.
Praise For…
---
"Samantha Norman, completes Ariana Franklin's superb Mistress of the Art of Death medieval mystery series with an appropriate homage, a story featuring mother-and-daughter sleuths. The forensic procedures are appropriately grotesque (leeches, anyone?), and the period settings run to luscious details, like "a perfect pastry sculpture of the baby Jesus" at a sumptuous Christmas banquet. Don't be distracted from Norman's true theme; namely, the crushingly limited life choices for women — even the most highborn women — of this period." — Marilyn Stasio, New York Times
"Medieval-mystery writing at its best."
— New York Daily News
"An exhilarating whodunit and my favorite book of the year." — Tess Gerritsen on A Murderous Procession
"An impeccably researched tapestry of murder most foul." — Entertainment Weekly on The Serpent's Tale
"This thoroughly captivating tale was begun by celebrated historical novelist Franklin, who died before its completion, and completed seamlessly by her journalist daughter, Norman."  — Kirkus Reviews on The Siege Winter