The Story Hour: A Novel (Paperback)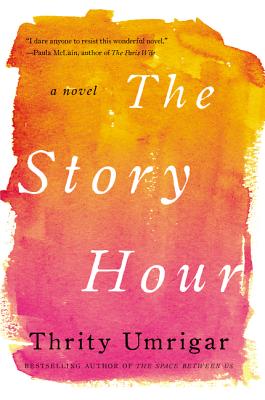 Description
---
"Thrity Umrigar has an uncanny ability to look deeply into the human heart and find the absolute truth of our lives. The Story Hour is stunning and beautiful. Lakshmi and Maggie will stay with readers for a very long time." — Luis Alberto Urrea, author of The Hummingbird's Daughter
From the critically beloved, bestselling author of The World We Found and The Space Between Us, whom the New York Times Book Review calls a "perceptive and . . . piercing writer," comes a profound, heartbreakingly honest novel about friendship, family, secrets, forgiveness, and second chances.
An experienced psychologist, Maggie carefully maintains emotional distance from her patients. But when she meets a young Indian woman who tried to kill herself, her professional detachment disintegrates. Cut off from her family in India, Lakshmi is desperately lonely and trapped in a loveless marriage to a domineering man who limits her world to their small restaurant and grocery store.
Moved by her plight, Maggie treats Lakshmi in her home office for free, quickly realizing that the despondent woman doesn't need a shrink; she needs a friend. Determined to empower Lakshmi as a woman who feels valued in her own right, Maggie abandons protocol, and soon doctor and patient have become close friends.
But while their relationship is deeply affectionate, it is also warped by conflicting expectations. When Maggie and Lakshmi open up and share long-buried secrets, the revelations will jeopardize their close bond, shake their faith in each other, and force them to confront painful choices.
About the Author
---
Thrity Umrigar is the author of seven novels Everybody's Son, The Story Hour, The World We Found, The Weight of Heaven, The Space Between Us, If Today Be Sweet, and Bombay Time; a memoir, First Darling of the Morning; and a children's picture book, When I Carried You in My Belly. A former journalist, she was awarded a Nieman Fellowship to Harvard and was a finalist for the PEN Beyond Margins Award. A professor of English at Case Western Reserve University, she lives in Cleveland, Ohio.
Praise For…
---
""A taut, suspenseful page-turner with depth, heart, and psychological credibility whose believable and enduring characters ponder the meaning of friendship, the challenges of marriage, and the value of storytelling itself." — Boston Globe
"With grace, wisdom and incredible compassion, Thrity Umrigar has woven together the lives of two seemingly dissimilar women who must learn—against steep odds—to forgive each other and themselves." — Paula McClain, author of The Paris Wife
"Past misdeeds threaten the friendship of a psychologist and her immigrant patient in a fictional tale that asks, are we more than the sum of our mistakes?" — O Magazine, "10 Books to Pick Up Now"
"Thrity Umrigar has an uncanny ability to look deeply into the human heart and find the absolute truth of our lives. The Story Hour is stunning and beautiful. Lakshmi and Maggie will stay with readers for a very long time." — Luis Alberto Urrea, author of The Hummingbird's Daughter
"Thrity Umrigar's novel The Story Hour showcases her ability to bring to life characters who are…sympathetic yet flawed in ways we can all relate to.… I read deep into the night to find out how their stories end, and I predict you will, too!" — Chitra Banerjee Divakaruni, author of Oleander Girl and Sister of My Heart
"The sixth novel from Umrigar (The Space Between Us) is a deeply moving portrait of connection, disconnection, and missed connections…. [T]his compassionate and memorable novel is remarkable for the depth and complexity of its characters." — Publishers Weekly
"Umrigar's novel begins as a small domestic drama and develops into a forceful examination of identity, cultural isolation and the power of storytelling.…An impressive writer, Umrigar delivers another smart, compulsively readable work." — Kirkus Reviews
"Skillful…. Much like a therapy session, this deft, well-paced novel contains breakthroughs and growth, and, at its end, leaves the reader wistful that the allotted time on the couch has run out." — Booklist
"Explores cross-cultural friendships, troubled marriages, love, loss, and forgiveness with [Umrigar's] characteristic wisdom, humor, and warmth.… This satisfying, psychologically complex story will appeal to a wide range of readers.… its characters are both smart and likable without being sentimental or idealized." — Library Journal (starred review)
"[a] thoughtful and moving new novel..." — Cleveland Plain Dealer
"The Story Hour is…a compelling testament to the power of story to unite people, transcend differences, and ultimately heal both the self and relationships." — BookBrowser Review
"I was hooked immediately…. The book will make a great movie…with actresses vying for the roles of these strong, unforgettable characters." — Midlife at the Oasis