Hickory Dickory Dock: A Hercule Poirot Mystery (Hercule Poirot Mysteries #30) (Paperback)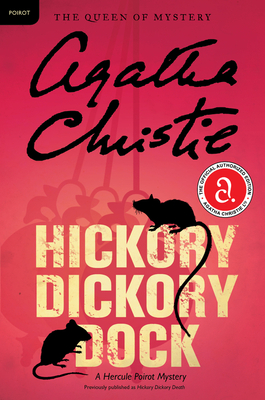 Unavailable in store; contact staff@bookmarksnc.org to check price and order availability
Other Books in Series
This is book number 30 in the Hercule Poirot Mysteries series.
Description
---
In this exclusive authorized edition from the Queen of Mystery, a most unusual series of crimes at a student hostel intrigues Inspector Hercule Poirot, especially when a simple case of kleptomania paves the way to murder.
Hercule Poirot doesn't need all his detective skills to realize something is troubling his secretary, Miss Lemon—she has made three mistakes in a simple letter. It seems an outbreak of kleptomania at the student hostel in which her sister works is distracting his usually efficient assistant.
Deciding that desperate times call for desperate measures, the great detective agrees to investigate. Unknown to Poirot, however, desperation is a motive he shares with a killer. . . .
About the Author
---
Agatha Christie is the most widely published author of all time, outsold only by the Bible and Shakespeare. Her books have sold more than a billion copies in English and another billion in a hundred foreign languages. She died in 1976, after a prolific career spanning six decades.
Praise For…
---
"When it comes to fiendish plotting, there's nobody to compare with Agatha Christie." — Peter Robinson, New York Times bestselling author of the Inspector Banks novels
"The Christie fan of longest standing, who thinks he knows every one of her tricks, will still be surprised by some of the twists here." — New York Times
"The characters are as good as ever and there is plenty of entertainment." — Times Literary Supplement (London)