Wyrd Sisters (Mass Market Paperback)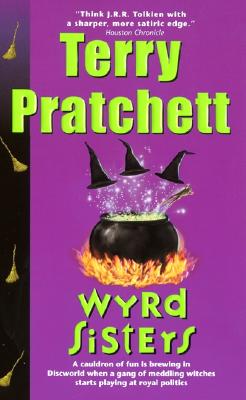 Staff Reviews
---
Though you can hardly go wrong with any of Terry Pratchett's 40 Discworld novels, Wyrd Sisters is one of the best places to get started. It's a riff on the plot of Macbeth that introduces the trio of Granny Weatherwax, Nanny Ogg, and Magrat Garlick, three witches with strong personalities who really shouldn't be meddling in politics. It's a whirlwind broomstick-tour of some of Discworld's wildest and funniest regions.
— David
Description
---
Terry's Pratchett's profoundly irreverent novels are consistent number one bestsellers in England, where they have catapulted him into the highest echelons of parody next to Mark Twain, Kurt Vonnegut, Douglas Adams, and Carl Hiaasen.
Meet Granny Weatherwax, the most highly regarded non-leader a coven of non-social witches could ever have. Generally, these loners don't get involved in anything, mush less royal intrigue. but then there are those times they can't help it. As Granny Weatherwax is about to discover, though, it's a lot harder to stir up trouble in the castle than some theatrical types would have you think. Even when you've got a few unexpected spells up your sleeve.