Losing the Race: Self-Sabotage in Black America (Paperback)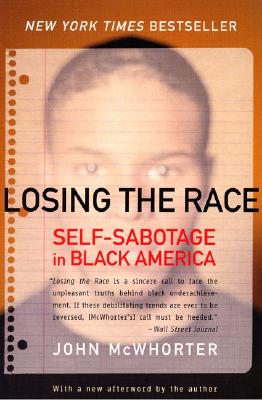 $14.99

Order Processes in 1-5 Days Depending on Store Stock
Description
---
Why do so many African Americans—even comfortably middle-class ones—continue to see racism as a defining factor in their lives?
Columbia University linguistics professor John McWhorter, born at the dawn of the post-Civil Rights era, spent years trying to make sense of this question. In this book he dared to say the unsayable: racism's ugliest legacy is the disease of defeatism that has infected Black America. Losing the Race explores the three main components of this cultural virus: the cults of victimology, separatism, and anti-intellectualism that are making Black people their own worst enemies in the struggle for success. With Losing the Race, a bold new voice rises among Black intellectuals.
About the Author
---
John McWhorter teaches linguistics, American Studies and music history at Columbia University. He writes for the New York Times and the Atlantic, hosts the language podcast Lexicon Valley, and has written over 20 books including Nine Nasty Words, Woke Racism, The Power of Babel, and The Language Hoax. He lives in New York City.