Possession (Audio cassette)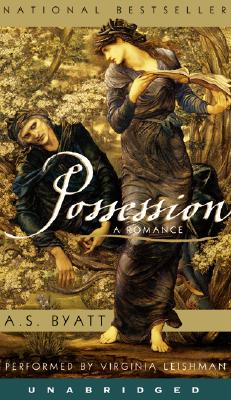 Description
---
Winner of England's Booker Prize and a literary sensation Possession is an exhilarating novel of wit and romance, at once an intellectual mystery and a triumphant love story. As a pair of young scholars research the lives of two Victorian poets, they uncover their letters, journals, and poems, and track their movements from London to Yorkshire -- from spiritualist sénces to the fairy-haunted far west of Brittany. What emerges is an extraordinary counterpoint of passion and ideas.
Performed by Virginia Leishman
About the Author
---
A. S. Byatt is famed for her short fiction, collected in Sugar and Other Stories, The Matisse Stories, and The Djinn in the Nightingale's Eye. Her full-length novels include the Booker Prize-winning Possession, The Biographer's Tale, The Shadow of the Sun and the quartet of novels including The Virgin in the Garden, Still Life, Babel Tower, and soon to be completed by A Whistling Woman. She has also published es of critical work, of which On Histories & Stories is the most recent. She lives in London.